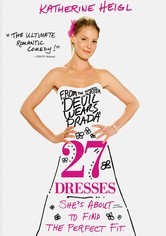 5/5
Tired of being a perpetual bridesmaid after helping 27 friends tie the knot, altruistic Jane (Katherine Heigl) finds herself facing her worst nightmare as her younger sister (Malin Akerman) announces her engagement to the man Jane secretly adores. But when Jane meets the charming Kevin (James Marsden), will she beat her sibling to the altar? Edward Burns and Judy Greer also star in this breezy romantic comedy from director Anne Fletcher.
Here are my thoughts:
Such a cute movie!! Kinda like always a bridesmaid, never a bride. Such crazy weddings they came up with too!! Katherine Heigl is cute as the bridesmaid who does everything for everyone!! Cute chick flick!!