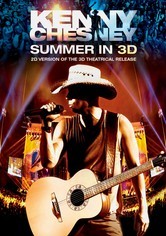 5/5
Country music superstar Kenny Chesney launched his Sun City Carnival concert tour in April 2009 and kept the party going across America until November 2009. Concert footage includes shows in Pittsburgh, Indianapolis, Philadelphia and Seattle. State-of-the-art, 3-D camera systems and up-close access to the performers, on stage and backstage, provide fans with full exposure to all aspects of the concert tour experience.
Cast:
My thoughts:
Number 1, I am a HUGE Kenny Chesney fan!!! :) He's a hottie :) :)
Number 2, I did not watch it in 3D, but still loved it!!
This concert itself was fantastic!! All the hits, plus lots of pictures, interaction & all :) He sure did sing his little heart out!! My mom even borrowed it & she hardly ever borrows movies from me :)