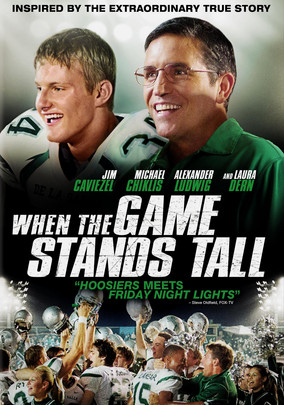 5/5
Here's what Netflix says:
The journey of legendary football coach Bob Ladouceur (Jim Caviezel), who took the De La Salle High School Spartans from obscurity to a 151-game winning streak that shattered all records for any American sport.
My thoughts:
What a great movie! Not just for sports fans, but for everyone everywhere!! I personally am the mother of a football player. My son has played football for 3 years for his middle school. I hope he learns half the message those boys learned from their coach. Bob Ladouceur is a man who taught those boys there is more to the game than winning and even more than breaking records. My favorite line in the whole movie is when the father of the boy looks to the coaches wife and says something to the effect of: Your husband is costing my son the record. To which his wife replies, No my husband is teaching your son to be a man. That made me tear up while watching. It gave me goosebumps. I am not someone who can watch and rewatch the same thing over and over. Only movies that are high up on my favorites list are replayed more than once. When the Game Stands Tall was so good I watched it twice IN A ROW!! Highly recommended, especially for parents of athletes.