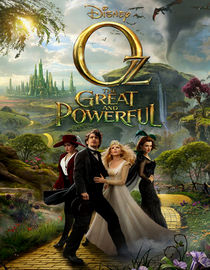 5/5
In this Wizard of Oz prequel, circus magician Oscar Diggs is magically transported to the Land of Oz, where he deals with three witches and uses his illusionist skills and resourcefulness to become the wizard the residents have been hoping for.
Cast:

James Franco

,

Mila Kunis

,

Rachel Weisz

,

Michelle Williams

,

Zach Braff

,

Bill Cobbs

,

Joey King

,

Tony Cox

,

Abigail Spencer

,

Martin Klebba

,

Bruce Campbell

Director:

Genres:
My thoughts:
What a great back story!!! I had heard of the movie, but hadn't seen many previews. I knew Mila Kunis was one of the characters, but I had NO CLUE she would turn into the Wicked Witch of the West!! She played the villan perfectly! It was a really good movie, the kids really enjoyed it. Our viewing included 2 year old twins, a 12 year old, 15 year old & 4 adults. One of the twins was so entranced with it, he barely took his eyes off the tv.
Recommended for everyone! There are a few spots that could possibly scare small children, but overall it's a great story and really explains how everything in the Wizard of Oz came to be!